I'm excited to be heading off to the 1920s in a few weeks, so I've been doing a lot of 20s sewing to get ready! The first project on my list was re-doing my 1920s bathing suit and adding swim boots.
The suit was initially a quick and dirty project the day before an event, and is made from a pair of stretchy athletic pants and a knit dress (both black). It was perfectly serviceable, and I'm glad I had it (it would have been sad to miss the swimming!), but I had really wanted it to be improved before I wore it again. I originally wore it with black ballet flats as makeshift swim shoes, as little bathing slippers were popular during the early 20th century and the rocky terrain especially called for them.
bathing suit and slippers last summer
actresses on the beach, 1926--Myrna Loy, center, is wearing bathing slippers
The shoes were falling apart when I used them, and they didn't survive the excursion, so I decided after that that I really wanted to make new bathing slippers for this year. I mentioned this to my friend Quinn, and she was kind enough to pass my desire along to
Gina of Beauty From Ashes
, and Gina shared the pattern she drafted for
bathing boots
from an original pair. Thank you, Gina! This was incredibly generous and I am so grateful!
Quinn has
posted about her bathing boots
already, and she was good and took lots of in-progress shots. I was not! So I recommend popping over to check out her interesting research and images. I do have some inspiration images to share though!
Ohio, 1920s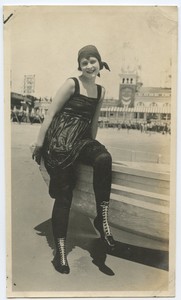 Atlantic City, NJ, c.1920
1920-1930
souvenir postcard of movie actress Phyllis Haver on the beach
I'd already fallen in love with several yellow and black bathing suits, so I knew I wanted to go for yellow trim with my existing black suit. I purchased yellow and black cotton canvas online for my swim boots, and used the extra yellow canvas to trim the neck of my bathing suit dress and add stripes to the skirt and shorts.
bathing suit (with matching cape!), 1920s (MFA)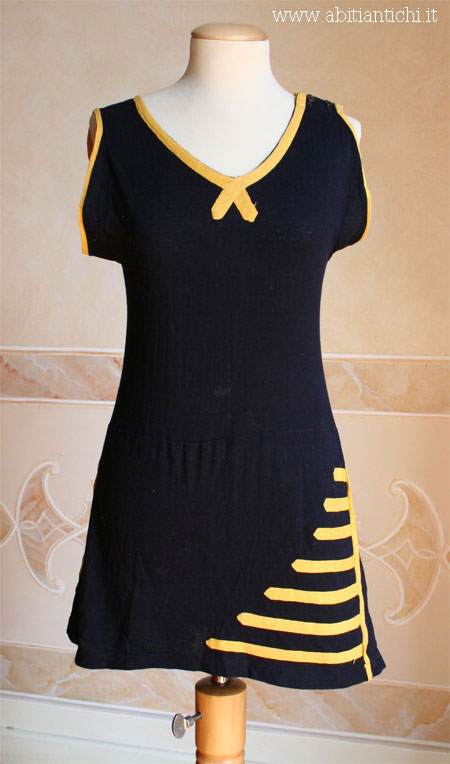 knit suit, 1920s (via)
I decided to go with diagonal stripes because I thought they looked particularly sporty, and I'm quite pleased with the finished suit!
at the beach!
Starting with modern clothing was a sneaky cheat to make this an easy, cheap project. Plus, it's very sturdy and machine washable, which is handy when dealing with sand and saltwater.
admiring art at the Nantasket Beach DCR building, which was originally built in the 1910s
Gina's boots patter went together easily, although our use of thicker cork for the soles meant that there was a lot of hand sewing. It worked out in the end, though, as the boots are very sturdy and help up well through beach adventures. I'm excited to wear them again!
boot selfie?
Girls in boots and barefoot in the waves
There are only two minor problems with this bathing ensemble: the stripe on the bottom of the shorts is a different color yellow, and my boots are too big. The alternate yellow is left over from the earlier iteration of the suit, but I didn't want to replace it with canvas because I was worried the less stretchy canvas wouldn't be able to handle my thighs. I've done too many squats to be contained! ha. The boot size issue is a little more confusing, but I think it's from a combination of tracing the pattern onto each piece (and thus getting a little larger each time between cutting and tracing) and my paranoia about ending up with too-small boots. I overshot! Oh, well. They look a little silly and duck-footy on land, but they're great paddles in the water.
Overall, I'm incredibly pleased with this, and so excited to wear it again! I love the beach in any period, so it's a treat to be able to swim and wear silly clothes at the same time.
I am a ham in every period