Last night was the premier of
The Great Gatsby
, and it was so much fun! Getting a '20s look together is always weirdly time consuming for me, and so I was thinking about that last night when I was getting ready. The 1920s in general, but especially the highly stylish flappers, have a very distinct look: bobbed hair, finger waves, pouty lips, and big eyes.
Helen Kane, epitome of the flapper look
a kind of creepy 1920s card
Helen Costello, an actress for Warner Bros. studios c. 1928
unknown model--check out those finger waves!
I still need some practice at my flapper fabulousness, but I'm excited to prepare for the Prohibition Ball in July. What I've found is that if your hair is short looking--minimized somehow if it's long--and your makeup is right, the aesthetic translates pretty well. Even though I will never have a bob or cigarette, there are some tricks to pulling off a '20s facade when the occasion calls for it.
terrible webcam selfie! my '20s look: big round eyes, pouty lips, (faked) bob, finger waves
I didn't put together a tutorial, and to be honest I went sort of minimal with my makeup for the performance (charlestoning under stage lights + dark eye makeup = me as a sweaty, drippy mess...ew!), but here is a list of some of the points about the flapper look that can really make it work!
1. Minimize (but shape!) your hair
There are two major categories for flapper hair: round and a little frizzy or slick. Both are fake-able with long hair, it all depends on your hair texture and preferences.
a slick wave
a sleek straight bob
fabulous frizz
I went for frizz by teasing the top of my hair into the proper rounded shape and pinning it at the base of my head. Once that looked right, I pulled fistfuls of brushed-out curls (a boar bristle brush can't be beat for things like this!) to the bottom of my head (and a little higher as needed for artful arranging) and pinned them however I liked. Pulling calmer hair back into a low bun (or two), or braiding and tucking the braid under can create a close-to-the head look without drawing attention to the fact you have long hair.
2. Finger waves!
The "S" wave is a classic part of flapper hair, and length doesn't matter! It's all about framing the face (and rocking your part, side or center).
Doing real finger waves is tricky, but super awesome! I cheated--not that you can tell, because my hair is curly and therefore doesn't look much different from usual. I created fake waves by brushing hairspray through my hair and using a wide-barrel curling iron. Starting at the scalp, I put the front section of hair on each side around the barrel, just enough so that the clip could close on top, and help it there for a moment. Once it seemed sufficiently rounded, I moved down the hair and repeated the procedure every other 2 inches or so. Curling every other bit gave the rippled effect of the wave without
actually
fighting my hair into finger waves.
3.
Round wide eyes
This is a spectrum. Fake lashes (as long as they are even all the way across, and not thicker on the outside--this will make a "cat eye" shape) can work here, but are unnecessary. Dark shadow is good, but only if you want it. There are three important parts:
(A) Line the top lid with black liner from inner corner to lid edge
against the lash line.
You can also stop a little before the outer corner to preserve a perfectly round shape.
(B) Line the bottom
inner lid edge
(above your bottom lashes) with white liner. This makes your eyes look bigger, brighter, and a little dewy.
(C) Line the bottom
outer lid
(below your bottom lashes) with black liner. I was using liquid so I went pretty thin, but going a little thicker (or tracing over your line in dark powder) is great too.
4. Pouty dark lips
Most of the reference images for the period are black and white or sepia, so it's hard to tell what lipstick color to choose. However, there are some clues: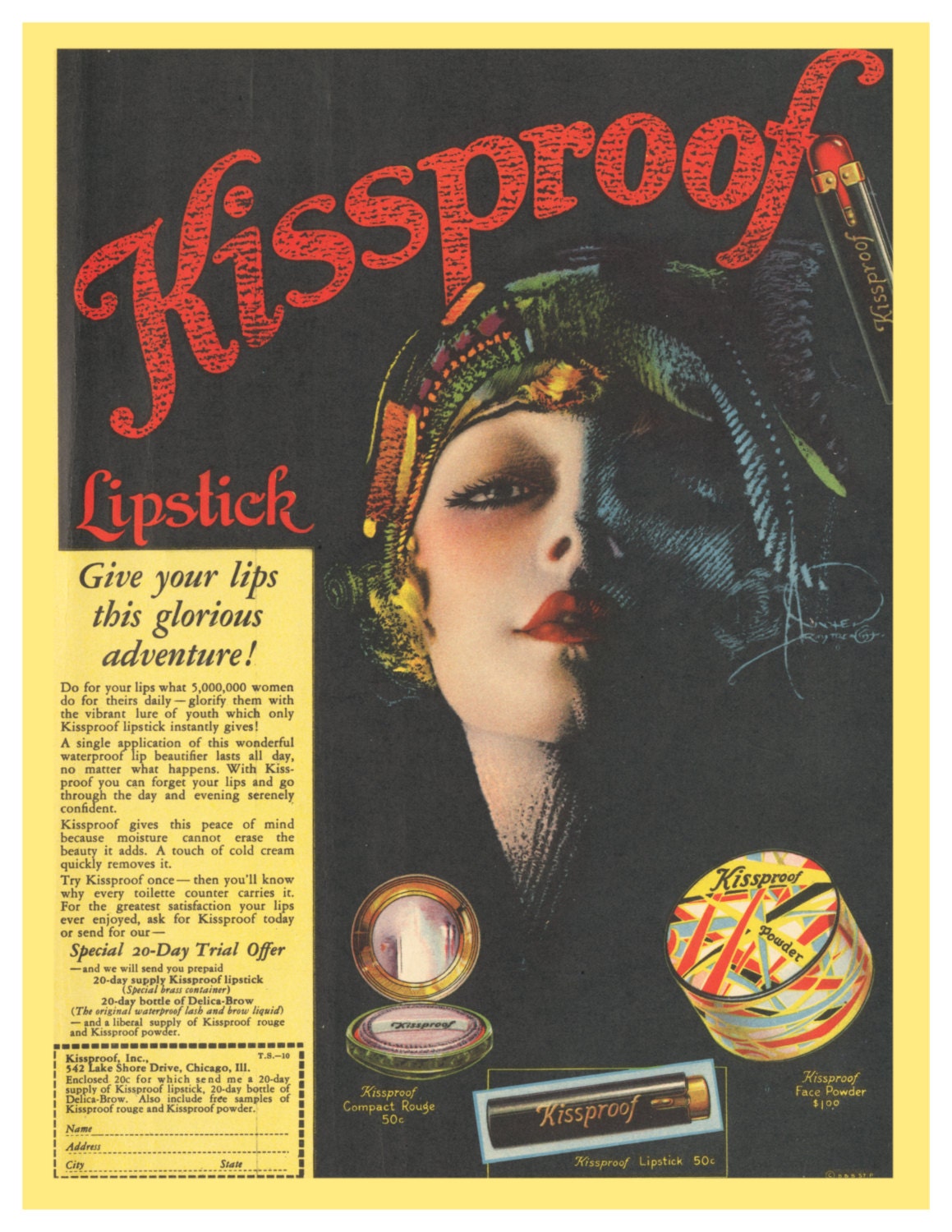 "kissproof" lipstick, looking pretty red
her lips look pink
and her lips look dark
It really comes down to a matter of preference. I tend to lean towards deeper reds and almost purples for '20s because I associate bright red so much with the 1950s and 1960s, and I wear it all the time. I also just like the way dark colors work as a counterbalance to dark eyes, creating that trifecta of dark makeup on a plain face that so reminds me of the flapper look.
Regardless of the color, the shape of '20s lips isn't just a natural mouth. Aim for a pronounced "bow" in your top lip and a smaller lower lip that is very full only in the center. I achieve this with stick concealer: spread concealer around your mouth and over the outer edges of your lips, blending towards your inner lips. Then use liner or the outside edge of the lipstick to trace the shape you want--an overdrawn top bow and full top lip (or less, depending on your feelings) with an underdrawn (I start to come in way early) bottom lip that is your whole lip only at the center bottom--then fill in with lipstick. Voila! A perfect pout!
5. Accessorize!
It was fashionable to wear hair accessories across the forehead or bangs instead of on top, like a headband. I think it's super dumb, but it is the
easiest
way to look like a flapper. I used some string sequins that i had on hand, but the possibilities are endless.
a simple band
all the bling, '20s style
6. Attitude
Really, it's all about the attitude. I am much more of a goof, and therefore tend to go for the Helen Kane look, but draw some inspiration from these bada** ladies.
Josephine Baker
Zelda Fitzgerald
the Minneapolis Park Board girls' rifle team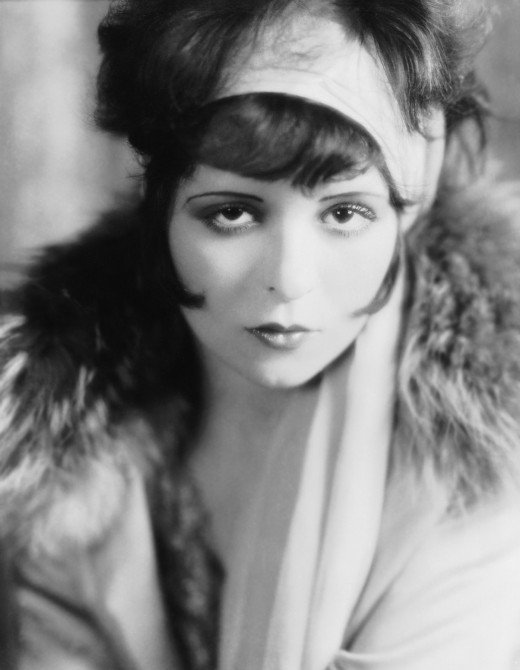 Clara Bow
Bonnie Elizabeth Parker
(of Bonnie and Clyde)
one more Josephine Baker, because she is THE COOLEST
and Betty Boop! Wait...what?
I don't typically do tips/tutorial posts, so I hope this was helpful! If nothing else, be inspired to flapper it up if you go to see The Great Gatsby this weekend.