I've been a terrible blogger lately, because life has been a little crazy. In addition to some family things, I unexpectedly found a new apartment, signed a lease, found a subletter for my current apartment, and moved.
Like I said, it's been a little crazy.
BUT, the new apartment is awesome, and as I've started to unpack I've been reminded of all the plans I had for this summer, and all the projects I wanted to do. (Of course, it's also inspired a lot of new projects, but someday I'll do them all, right?) So when I finally feel settled and am not longer spending my free evenings building furniture, I will be right back to it.
In the meantime, the new apartment has a sweet black and white tiled floor and mirrored closet doors and screams late 50s/early 60s to me.
We're not going all-out vintage, but the period style is there in general shapes and colors and it's pretty great so far. So to keep you entertained while I crawl back from blogger limbo, here are some pictures from the opposite direction: the "Monsanto House of the Future," a Disneyland attraction from 1957-1967 that represented what homes in the future (c.1986) would be like.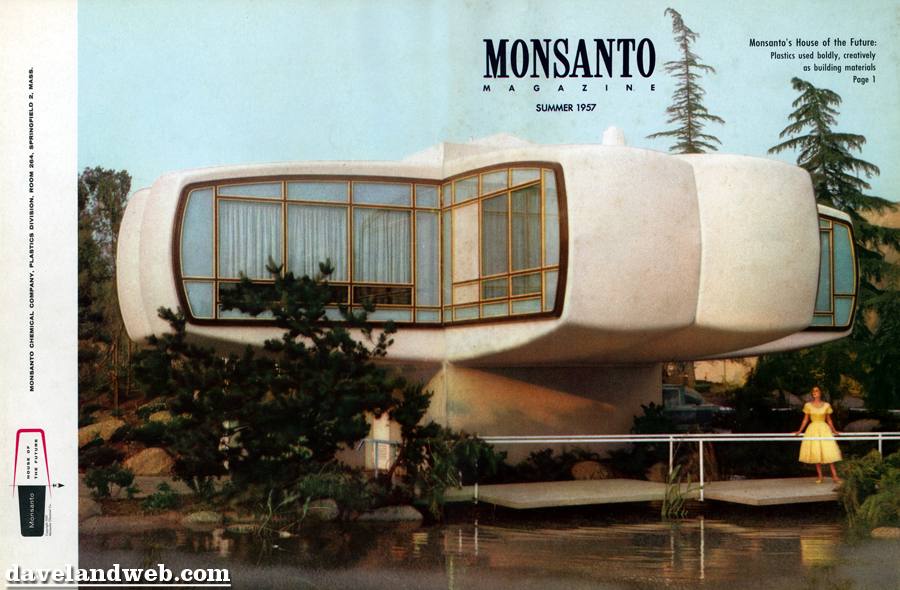 the House of the Future, exterior
The display was co-sponsored by the Monsanto Company, MIT, and the Disney Imagineering team and featured a house with huge glass windows, a microwave, a large wall-mounted television, adjustable surfaces (the height could change on the kids' sink!), and a
whole
lot of plastic (including the exterior!). While plastic isn't the building material of choice, a lot of the other features of the house really have made it into everyday life, and the "retromodern" furnishings are making a bit of a comeback. So here's the House of the Future, firmly rooted in the mid-century:
the layout
rooms for the kids
the kitchen and parents' bedrooms
the bathroom
the living room