It's rare that I attend an event where I won't be dancing or playing croquet or climbing rocks or lugging equipment, so I don't have many occasions where it's remotely reasonable to consider something with a train. But recently I attended a 20s weekend event with a dinner, and since the dinner was separate from the dancing (and there was time to change in between), I could wear a dress with a train! So even though it was entirely unreasonable, I had visions of trained evening gowns floating through my head. Like these:
embroidered evening gown, c.1920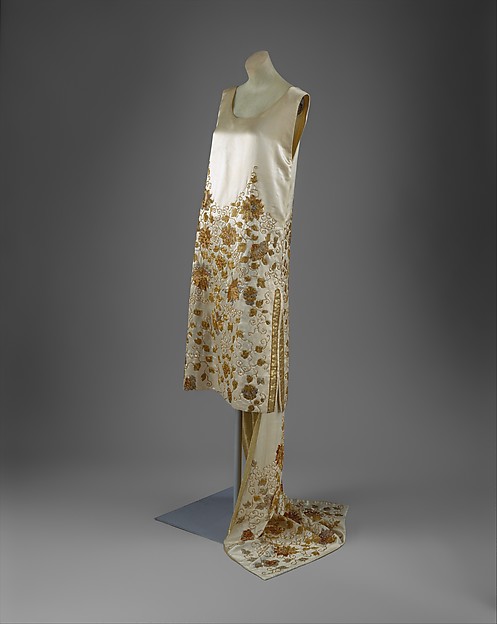 House of Worth, c1925
Then while doing research for an entirely different project, I found this Poiret from 1921. It was the last straw that broke my "don't buy more fabric or start stupid projects" willpower, and with a whole Saturday in front of me (t-minus seven days until the event) off to the fabric store I went!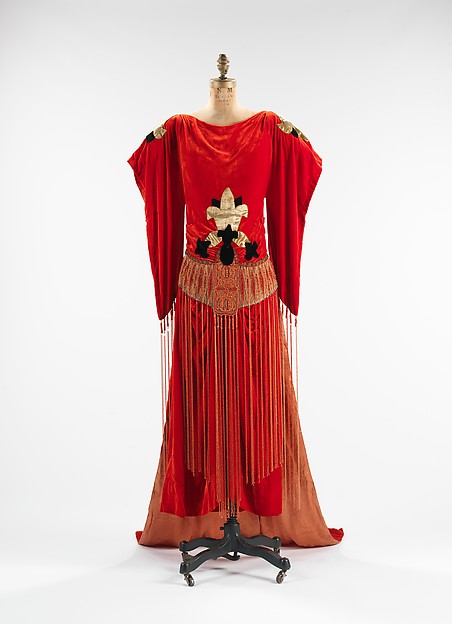 "robe sabat" by Paul Poiret, 1921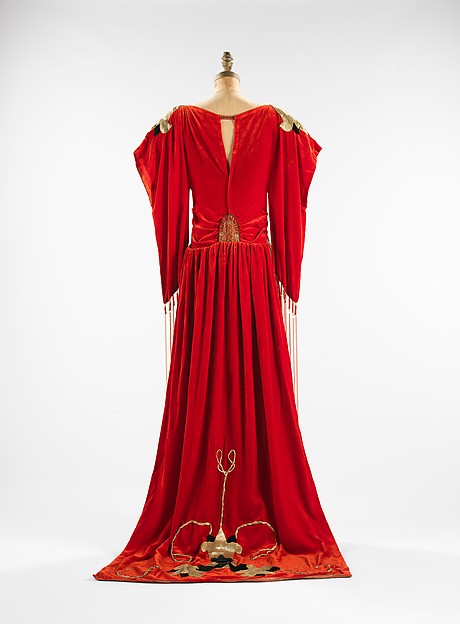 back view of train
I didn't want to exactly copy this dress, but rather draw heavy inspiration from it. I did find a very very close match for the velvet (although I think mine is slightly redder than Poiret's), so my color combination is similar (orangey-red, white, and gold).
As I mentioned in my previous post, Poiret was known for draping and using rectangles as the base for his designs, which meant that I could use a very easy base and then experiment on my dress form from there until I found a look I liked. This was a great fit for my schedule (which never happens! hooray!), as I got most of the measuring/cutting done that Saturday and then could drape/pin/tack down haphazardly throughout the week when I had time.
draping the bodice (I pinned the train on to try and mimic the final weight from the shoulders as I played with the shoulder pleats)
adding sleeves
Overall this was a pretty smooth project (yay rectangles!), but when I was ready to add sleeves I was running low on fabric (which I suppose is good, since I was totally guessing on yardage and ended up being pretty spot on). I ended up going with a curved triangle shape rather than the long rectangles on the original, which maximized the fabric I had left and kept with the vaguely oriental shape of the dress. Except then I hated the sleeves! I felt like I was wearing a 1920s monk/medieval princess fancy dress costume, rather than an elegant evening gown. Whoops.
draping the back
I didn't have enough material to re-make the sleeves, so in the end I left them. After wearing this to dinner, I think I like them after all.
tasseled sleeves and a train!
The heavy velvet was lovely to wear, and trains are always fun. This entire dress (except for the triangular sleeves) is just rectangles draped into shape, but it flowed elegantly behind me as I wandered around. Hooray! I will say, though, that when you have to get up and walk about the dining room trains start to become way less reasonable...I spent a lot of time trying to avoid dropped food. Worth it! ELEGANCE!
train!
trying to sit elegantly
Although this project was a little slapdash, I'm really happy with it. I actually don't have any fixes I need to make! I do want to find a source for some long fringe for the waist, but that's pretty minor.
This was a silly project, but it turns out what I needed to get a boost back into sewing after my crazy summer was some Poiret--not a period or aesthetic I'm usually drawn to, but maybe that's what made it work. Hooray, novelty!
I just really love trains on stairs