I was lucky enough to hit a Unique Vintage sale a few years ago, and so it's been a long time since I made a 1920s evening dress. I associate the 20s with glitzy beaded and sequined ensembles, but lately a few particular dresses have been speaking to me that go against the image--they're chiffon and feathers instead. A very different kind of glamour, and I'm very excited to try it out!
Marion Morehouse in an airy Louise Boulanger dress, 1926
I found some pretty great ostrich feather trim on eBay for a decent price, and snatched up 11 yards in a pretty periwinkle blue. The feathers came today, so now I can bring them to the fabric store to find fabric in a matching color! In particular, I'm very inspired by this dress:
beaded chiffon dress with marabou skirt (via)
Last trip to the fabric store, I found some really lovely gold lace. My plan is to make an overdress of gold lace, an under dress of something periwinkle, and then layer feather trim over the skirt panel to create the feather effect.
detail of the marabou feathers sewn to chiffon
I'm pulling additional inspiration from some other glamorous numbers, which are trimmed in ostrich feathers rather than marabou I think: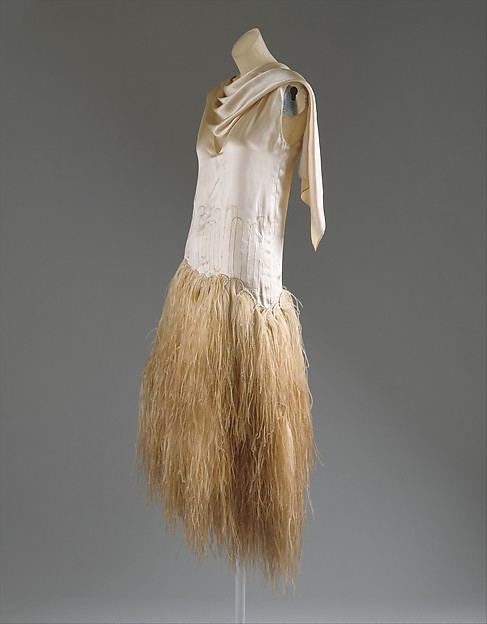 Louise Boulanger, 1928 (via)
Chanel, 1920s
posed shot of girls (possibly performers?) in feather-skirted dresses
Peggy Hoyt, 1927 (via)
serious feathers, Fashions for Women, 1920s
Hooray for new materials to make an otherwise entirely unflattering decade feel downright fabulous! Now I just have to find the right fabric...