It's no secret that I love shiny things (tiaras, anyone?), but sometimes the shiny comes directly from the fabric, and that is a whole different kind of special.
my new (untrimmed) shot silk regency dress
Shot silk, or silk woven with different colors for the warp and weft threads (i.e., the horizontal threads on the loom-warp, and the thread passed through by the bobbin-weft). This process essentially interweaves the colors, creating a shimmering, iridescent quality.
like this!
Shot silk has been popular for both men's and women's fashions at various points in history, and is especially stunning in the big skirts of the mid-19th century (they're like magical hot air balloons!). Even on a simple piece without much trim, shot silk adds a quite special quality to the outfit.
Of course, silk is still an expensive fabric choice--especially for a large garment like a ballgown. Luckily, modern technology means there are some really nice synthetic versions on the market. My new dress (stay tuned, post coming later this week!) is shot synthetic fabric, but it's rustly and shimmery and totally satisfying. I really recommend keeping an eye out for it!
Here are some lovely examples of shot silk in the 19th century. Hooray for shiny!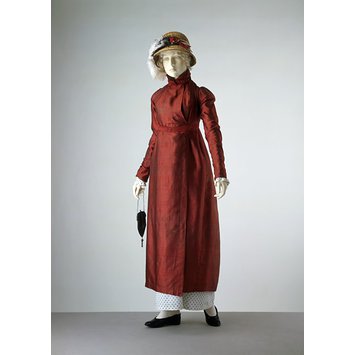 red/blue shot pelisse, 1809 (V&A Museum)
silver/blue shot dress, 1810-13 (Australian Dress Register)
brown/gold shot, 1830 (LACMA)
blue shot, afternoon dress c.1849 (FIT)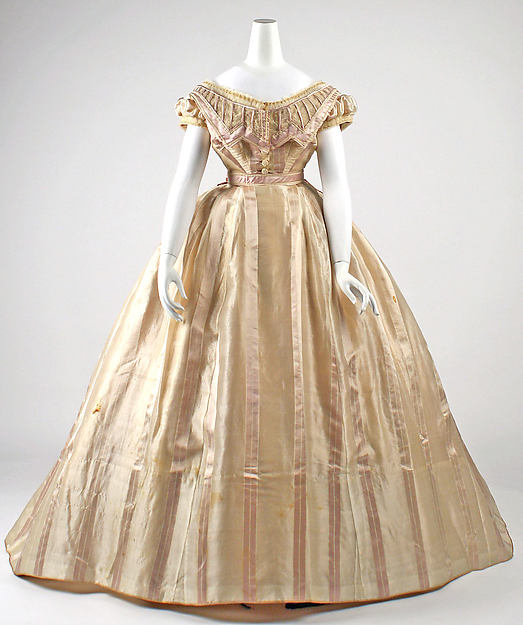 striped and shot ballgown, 1865 (Met Museum)