I had grand plans to make a bodice for the 1860s ball this weekend, but unfortunately I don't think it's going to be ready. Even so, I thought I'd share some of the inspiration behind the project.
The plan was (
is
, someday...) to use the extra yard or so of reproduction cotton print from my
1860s cotton day dress
to make an evening bodice for the skirt. This seems to have been a pretty common occurrence in the mid-19th century, and it makes a lot of sense. A dress takes a lot of material and a lot of effort, but a little evening bodice is a small fraction of that--once you're already making something, why not put in a tiny amount more and end up with something that can be worn to double the occasions?
I think this is a really neat system, and I think the different trims for day and evening are also a cool contrast. Here are some outfits I particularly like!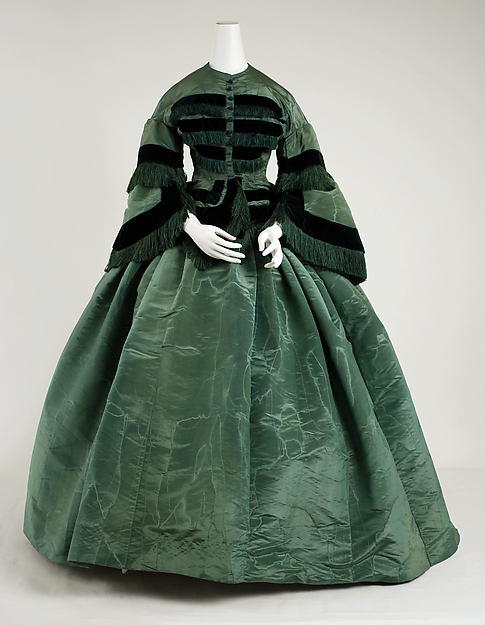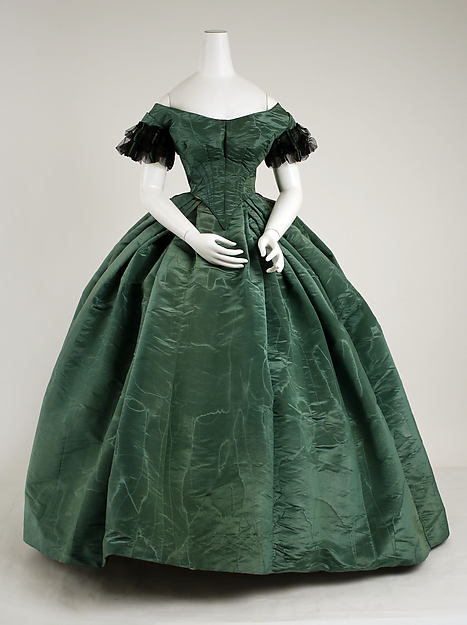 Ensemble, 1858 via The Met Museum
1850s, via the FIDM Museum
plaid! moire taffeta, c.1860
cotton sheer, 1860s
yellow silk with yellow lining, 1861 via the CT Historical Society
There's a lot of variety here--silk, taffeta, cotton, velvet--at a range of costs. Even Mary Todd Lincoln had dresses with both day and evening bodices, and she was known for outrageous spending in the Whitehouse. Convertible dresses are an easy way to get the best use out of your wardrobe, and to extend the range of items. Plus, it's about as mid-19th century as you can get!