Earlier this week I posted about plaid matching (or not!) in extant garments, and I mentioned that I am currently working on a project that relates. So far my plaids look pretty good (the shoulders, which will be unfortunately lost in the neck facing/trim and sleeve are my favorite), but not perfect, which seems just about right. I'm taking a pause because I need a new corset, and I don't want to take darts over my old one (which has never fit correctly, even though I made it almost three years ago...whoops). I'm also waiting because this is a special project: I am not venturing into a new decade alone, but rather in a joint expedition with my mother, so I'm waiting until our next sewing date to start the next bit.
My earliest experiences with sewing all involve my mom, who made my Halloween costumes every year until I was too cool for it because I wanted to be a "girl from the Civil War" with a dress out of one of those cheesy catalogs (funny how the 1860s stuck and the store-bought outfits didn't! Clearly Mom's influence was in there...). She would insist that she was only ever an "ok" seamstress, but Mom taught me to use a sewing machine, to pick out patterns and follow pattern instructions, and that sometimes making things was just better (those Halloween costumes were killer).
My first grade class Halloween party, dresses as Odette from The Swan Princess (my absolute favorite movie at the time) in her wedding dress, made by Mom...check out my opalescent swan "wings"!
the inspiration (ending scene from The Swan Princess)
Last year my family came to
Fezziwig's Ball
, hosted by the Commonwealth Vintage Dancers, because we all love Christmas and singing carols and having a lot of holiday cheer. I loaned everyone dresses, which worked out fine, but Mom decided for this year she wanted her own dress.
At the ball last December
I completely used the opportunity as an excuse to make a dress from a period I wouldn't otherwise have an excuse to sew--I proposed either the 1830s or the 1870s, and Mom chose the '70s. We're aiming for mid-lateish in the decade (with slightly padded butts but still in the natural form era), in between bustle eras. I am also taking the opportunity to make a day bodice and a train extension (I don't want a train at the ball) so that I can wear the dress for swanning around museums or something (for some reason natural form 1870s dresses say "swanning around museums" to me).
Mom and I are both using the same base pattern for a bodice, but taking it in different directions. We also have very different fabric, so the dresses won't look "matchy-matchy" even though we're using the same pattern (
TV416
).
The natural form era/mid 70s is interesting, because while it's missing the back end accentuation of the two bustle period it's sandwiched between, but it still follows a lot of the same lines (overskirts drawn up at the back, bows and gathers over the butt) and mixes the hard suiting/tailored elements that were coming into style with frilly details (layers and layers of ruffles, trim, and bows).
Plaid shows up quite a bit in fashion plates from this period, most commonly in bodices and as trim on skirts (usually bias cut). Another common plaid element is a plaid (sometimes bias, sometimes not) overskirt, often paired with plaid trim on other pieces of the ensemble.
Here are some of my major inspirations; they're almost all day dresses, because I'm planning on this being mostly a day ensemble, since we don't do any 1870s balls besides Fezziwig's (and 70s are sort of late for that).
no plaid trim on this one, but a plaid bodice and overskirt. I particularly like the pleated trim on the lower edge of the bodice
the complete opposite bodice arrangement from the previous! I like the two shapes of bias-cut plaid edging on the skirts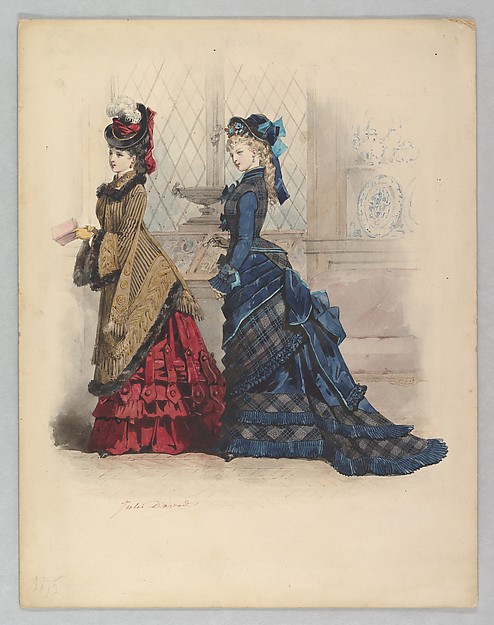 Possibly my favorite of all! Love the double row of bias trim paired with the half-plaid straight cut overskirt
Two words on this one: BUTT. BOW.
I'm definitely pulling from the barely-there sleeves on these two for my evening bodice
And here's a preview of my progress!
my plaid ball bodice from the back...you can see what I mean by "almost" on the plaid matching...(also sorry for the awkward mirror/cell phone pic!)
you probably won't see much (if any) of the shoulder when the bodice is done, but these make me happy anyways