It's Fall, and with the change in seasons comes a change in wardrobe...to tweed blazers and wool skirts, tall socks, and felt hats. Yum!
So while normally this blog is the place to find
tartan in the 19th century
, today I'm taking a turn into the history of tweed (specifically, Harris tweed).
there is no excuse for this...but how could I resist multicolored sheep?! (via)
Like tartan, Harris tweed is a woolen fabric that has been woven in Scotland for hundreds of years. Where tartan was a common textile in the Highlands, Harris tweed is tied to the Outer Hebrides (islands off the west coast of Scotland including Uist, Lewis, Barra, and Harris). To this day, Harris tweed is still woven by hand on treadle looms--if it's certified Harris tweed, it comes from the homes of crofters in the Outer Hebrides--a truly living tradition.
Tweed has an open weave, usually with a "tweel" (or "twill"), a diagonal line running through the fabric that increases the weave's strength making the cloth warmer and more stable. While this weave gives tweed its traditional "v" shape, tweed can also include a variety of patterns (even plaid!).
a lovely Harris tweed, showing the v-shaped twill
a Harris tweed with an additional plaid pattern
Like tartan, tweed was the durable cloth of farmers until the 19th century, when it was "discovered" by the landed gentry and its popularity exploded. In 1846 Lady Dunmore, widow of the Earl of Dunmore (the landowner of Harris), commissioned her family tartan to be woven out of the local tweed (or she wove it herself, depending on
who you ask
--I think it's more likely she commissioned it). Lady Dunmore turned out to be quite a good marketer, and her endorsement greatly increased interest in and sales of Harris tweed for sporting clothes.
tweed sportingwear for gentlemen from "The Gazette of Fashion" 1870
One member of the gentry whose eye was caught by Harris tweed was beginning a love afair with Scotland we've
already mentioned
: Prince Albert. In addition to designing several tartans for Balmoral Castle (purchased in 1848) and the royal family, Prince Albert designed the Balmoral tweed.
a swatch of Balmoral tweed
Just as tartans were associated with specific clans in the 19th century, specific tweeds became associated with estates, and special "estate tweeds" had their own color schemes. The end of the 19th century also saw a rise in women's participation in sports--golf, bicycling, hiking--which meant more sportswear! Tweed skyrocketed, becoming an integral part of a wealthy, fashionable wardrobe for both genders. It was in such high demand that by 1903 production had spread from Harris to other islands in the Outer Hebrides.
The Duke of York with pug, in tweed, 1895
tweed and velvet walking suit, 1895
By 1906, Harris tweed had become so popular and weaving technology had developed enough that the Harris tweed weavers were concerned that low quality copies would emerge. To prevent this members of the Harris tweed industry met in Stornoway, where tweed standards and an inspection system were developed to certify true Harris tweed (the stamp went into full effect in 1911). If you buy stamped, official Harris tweed today, it still meets those standards.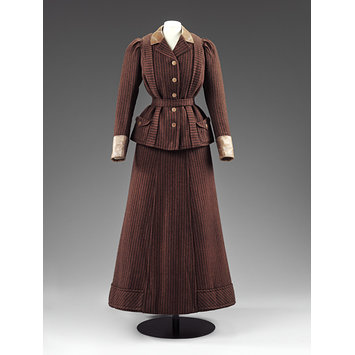 tweed and leather golfing skirt and jacket, 1908 (V&A)
tweed suit, 1895
But I mentioned that in the beginning of the boom, Lady Dunmore commissioned a tartan out of tweed--so what exactly is the difference? It's all in the weave. Tartan is a pattern--plaid, in particular--that is woven (or at least, is capable of being woven, and the official register has thread counts for every tartan), while Harris tweed is a particular weave--that includes the diagonal "twill"--and depending on the colors, could include a pattern. Which means that you could weave a tweed with a tartan pattern, but there are many many tweeds which aren't tartan! Oi vey.
the Lady Dunmore Plaid, the first official Harris tweed tartan (modern, 2000s)
Read more about Harris tweed and its history here: