Now is the time when I would typically write a "year in review" post, but with grad school and my crazy life I didn't actually make many projects this year. I'm ok with that, though--because when I did sew, I was able to
update
/
improve
some
outfits
I really love, get outside of my
comfort zone
, and make some
really
ridiculous
projects
--some of which I haven't even managed to blog yet!
I was also lucky to do my first
photo shoot
(as the photographer), get some
good practice
in with my
petzval plates
, put my
1940s Graphlex
mod
through
its
paces
, and take some portraits I'm really proud of.
So as I start to plan for 2016, I'm feeling grateful for skill-expanding craft lessons, wonderful adventures, and fabulous friends.
Salem in the snow during our record-breaking winter
a deserted corner of a very cool speakeasy in Las Vegas
the town square of Tartu, Estonia, shot through a life-sized National Geographic frame as part of a national tourism project
sunset on the National Mall, from a trip to DC in April
being silly, because we are great at that!
playing roulette at our Casino Royale party
in Star Trek (original series) uniforms
And I've got quite a year to look forward to!
In particular, my fabulous friends and I are heading off to France this spring to attend an 18th century ball at the Palace of Versailles. I'm immensely excited, but also feeling nervous about sewing a new period with such high stakes. So with a few exceptions as things come up, I'll be spending the next five months making a robe a la francaise from the inside out, starting with a chemise and stays! (Don't worry--I'll still sneak in your regularly scheduled programming of tartan history, event photos, and other research.)
I've started a
Pinterest board
for the project, which includes inspiration for clothing and accessories. Naturally, some of my favorites are plaid...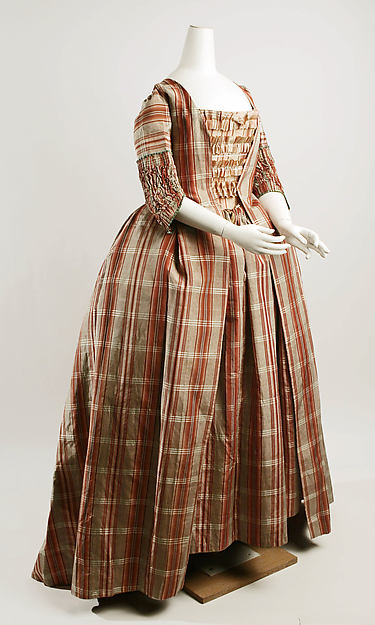 silk plaid robe a la francaise, 1760-90 (Met)
...but my francaise will be a lovely dusky purple silk taffeta. Mostly because I got a really great deal on fabric, but also a little bit because no matter how much historical clothing research I do, there will still always be a part of me that is totally in love with the Sofia Coppola's candy-colored Marie Antoinette movie.
Actually, after reading Caroline Weber's
biography
Queen of Fashion,
and watching this movie, I attempted a robe a la francaise in high school. I used the very costumey Simplicty pattern, and it was a huge mess...but I've never lost my appreciation for how incredibly elegant they are. So with several years of sewing under my belt, a lot more research, and some helpful friends, I'm heading back to the 18th century.
purple robe a la francaise, c.1775, Colonial Williamsburg (via)
And to help keep myself on task (and take advantage of a wealth of knowledge), I'm also jumping into the
Historical Sew Monthly
for 2016. I probably won't have something complete for every challenge, but I think it will help me stay motivated. So here's to a new year!