Last weekend I ventured out of my work/grad school hole to the 1920s, where I attended the Greater Boston Vintage Society's White Lightning Ball. I attended this event in its
first year
, but missed last year, so I was excited to see how the event has developed.
It was a lot of fun, because I got to spend time with wonderful people--some of whom I see quite frequently, and others I only see at events. I also explored the downstairs car displays at the museum (the event is held at the
Larz Anderson Auto Museum
). I don't remember if the lower floor was closed the first year, or if I just didn't know it was there...but either way, it was new to me! We had fun looking at the cars--there was even a custom touring model with a built-in toilet for long trips!
gathered friends
Over the last year or so I've been practicing setting my hair in pin curls and marcel waves for various 20s, 30s, and 40s events, and I think that finally paid off. Early in the day I set the front of my hair in marcel waves by creating the overall shape and clipping it with salon clamps, and then pinching each section into wave clips to create the iconic ridge. (Both sets of clips and my setting solution of choice, Lotta Body, are from Sally Beauty Supply.) The top and back I set into large pincurls--I probably should have done smaller ones, but at this point I was losing steam and my hair was getting fussy. When I got ready for the event in the evening, I took out the curls and brushed them, then basically twisted them back into loops and pinned them wherever looked good. The front waved sections I combed (to get rid of the severe crinklyness from the setting solution without losing the wave) and layered with some scrap gold sequin trim to create a headband. I was really pleased with the way this came out! I learned a few more lessons, but overall this felt like a big payoff of all the practice.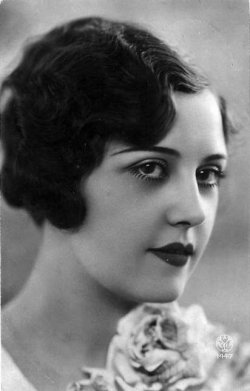 side part and dramatic waves
pinned up curls under waves
Of course, I sort of failed at pictures...but I did manage enough to show off my hair, so that's something!
dramatic waves!
this doorway just spoke to me...
checking out the motorcycle exhibit in the back gallery
One place I'm still struggling is with my ears. In pictures of women from the period, their ears are mostly covered by their hair--but hair over my ears feels so strange! I'm not used to it, so I never want to do it. I think this style struck a pretty good balance by covering only half of each ear, so that's progress.