While incredibly important, staying home is definitely difficult. I work part time at a museum as I've spoken about before, and I have appreciated the solidarity among the guides during our closure period. To feel a little less isolated, I've been virtually visiting places I'd love to see in person someday. This is actually a very 19th century approach! As
photography became more prevalent
in the mid-19th century, you could buy images (especially "stereo", or 3D, images) that showed
faraway places
unreachable without extensive travel. Of course, we've come a long way from squinting through a stereoscope...modern options for "armchair travel" include panoramas, videos, and interactive tours.
stereocard: "home of Louisa Alcott". Undated, but likely late 1870s? (via BPL)
I thought I would share a few of the virtual tours I've explored over the last few weeks. I tried to pick the ones that I thought had the best virtual experience, but there were so many more I found! Definitely check to see if a place you're interested in has a virtual tour up right now.
Most of these are free, but some are behind a paywall that goes to support the museum. (Since museums are being hit incredibly hard, this is a nice way to help support them right now if you can.)
I hope you enjoy this list! And if there are any great virtual tours you recommend, I would love to hear about them.
Orchard House (Concord, MA)
I'm partial to this home of the Alcott family, as I've worked there since 2005. The historic house museum was the home of
Little Women
author Louisa May Alcott, along with her family. Their history covers many themes that still resonate today: educational reform, women's suffrage, abolition, and class inequality were all an important part of the Alcotts' time in Concord.
You can rent a virtual tour here
, and check out
free posts highlighting specific artifacts
each week.
Villa Lewaro, the Madam C.J. Walker Estate (Irvington, NY)
This grand Italian renaissance-inspired villa was owned by Madam C.J. Walker, the first black female millionaire in the U.S. Walker and her daughter A'Lelia were both important figures in social movements of their time: during her lifetime Walker championed programs for black women's economic independence and was a vocal advocate for the anti-lynching movement.
You can tour the estate for free here
, with narration by Walker's great-great granddaughter. In 2018 the site was purchased by the New Voices Foundation, and
you can read more about them (and donate) here
.
Winchester Mystery House (San Jose, CA)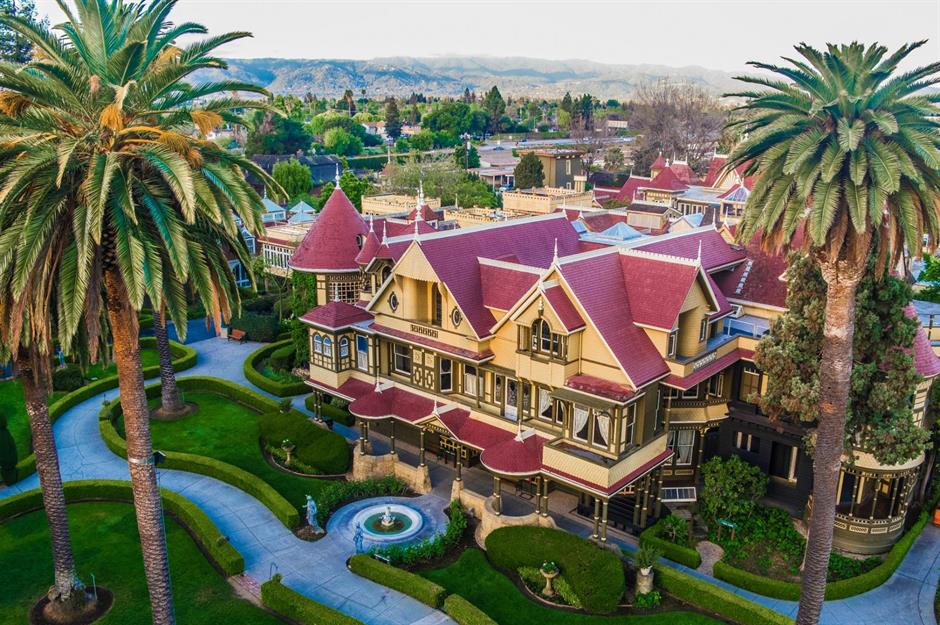 I will never let Mr. Plaid live down the fact that before we were dating, we were in San Jose and he would not tour this house with me! The Winchester Mystery House began life as an 8-room farmhouse purchased by Sarah Winchester, heir to a large part of the Winchester gun manufacturing fortune from her husband. Between 1886 and 1922 Sarah Winchester pretty much constantly added or re-did parts of the house--upon her death the structure had 160 rooms. No one knows why, but there are a lot of (very haunted) theories. The house itself is weird and beautiful, and Sarah Winchester was fascinating person. You can
rent or buy a video tour here
, or opt for
the 360 tour
(which I have not tried!).
The Frick Collection (New York, NY)
The Frick has a reputation for its incredible art collection (it is an art museum after all), but I was intrigued by the description of the museum as "the last Gilded Age mansion on Fifth Avenue." All that Wharton immediately made me perk up at that! It was very cool to get a peak inside this very fabulous space.
You can see the virtual tour here
, which is free and includes an audio guide.
Museo Frida Kahlo (Mexico City, Mexico)
After her death, husband Diego Rivera donated the home of artist Frida Kahlo to become a museum to her life and legacy. During her life, Kahlo was a revolutionary whose art drew from Mexican folk culture and her struggles with chronic pain. Her work focused on reclaiming identity--both her own femininity outside beauty standards and Mexican culture freed from colonialism. The museum has a
free photo walk through here
, but there's no guide--I recommend reading the information on the rest of the website and at the
Frida Kahlo Foundation
.
Royall House Museum and Slave Quarters (Medford, MA)
The 18th century home of the Royall family is an important look into enslaved peoples' experiences in the North. The site of the wealthy Royall family is currently the only surviving slave dwelling structure in New England, and the historic site's mission to share the experiences of everyone who lived there is so important for understanding U.S. history. The museum does not have a special guided tour during quarantine, but was previously feature on Stuff You Missed in History Class.
You can watch the video here
and see the
museum's site (with information about how to support the organization) here
.
Edgar Allen Poe House & Museum (Baltimore, MD)
I'm including this one specifically because the Poe museum is doing
live
guided tours of the site via Zoom, which is really cool! You can find out more about
signing up for this pay-what-you-can experience here
. The Poe museum has actually been on the forefront of incorporating technology into the historic museum experience for a while--I wrote a paper on them in grad school--and I love that they're finding ways to bring the site to life right now.
Lippet House Museum (Providence, RI)
I'm ending on a slightly different kind of tour: this guided tour is entirely in American Sign Language. I was able to spend an afternoon at the Lippett House
last summer
, and really enjoyed seeing the beautifully preserved rooms and learning about the cutting edge technology (for its time) used throughout the home. Henry Lippett designed the home and had it built for his family in 1865, 10 years before he became governor of Rhode Island; his interest in technology is reflected in the "modern" advances built into the house, like central heating. After their daughter Jeanie became deaf from scarlet fever at age 4, Mary Ann Lippet became an advocate for deaf children's education and founded the Rhode Island School for the Deaf with her daughter in 1876.
You can read about the house and watch the ASL tour playlist for free here
.