It's been a couple of months since my last WWII adventure, but I wanted to share a set of photos to explain what I wear when I'm dressed as a War Correspondent. Consider it the fashion half of my WarCo posts--more on their role in the war coming soon!
War Correspondents are an interesting in-between: civilians in uniform. Many of the women who covered the war from foreign locations were there providing reports long before the USA officially entered the war, so they'd been writing and shooting photos in normal/civilian clothes. It's likely that they continued to do so even after the US was involved, because sometimes there's no time to change--dresses, pajamas, overcoats, you get the story whether you're dressed or not. War Correspondents were also less uniform than actual military women; before real uniforms were available, some WarCos took uniform specifications to have made up at a tailor. In other cases, just like women joining up, they would alter available men's garments because there wasn't anything for the women yet. While the availability of uniforms as the war progressed increased (and therefore it would be easier to have a "real" uniform), I think it's fair to say that WarCos didn't always fit military specs for the branch they were associated with, although they tried their best to match.
Accredited War Correspondents were listed officially as captains (although the rank was purely symbolic), so that in case of enemy capture they had a rank to provide leverage. It also offered protection against accusations of spying. I find this quirk particularly interesting: wearing officer uniforms with correspondent insignia was a protection against being thought a spy. A random civilian wouldn't be outwardly demonstrating their affiliation, which would look more suspicious if the civilian started taking notes, asking questions, or taking pictures--behaviors both spies and reporters might exhibit. For WarCos attached to the US Army (which is what I do, and what I will focus on), this mean wearing two types of insignia: 1) US lapel pins, which were worn as part of the female WAAC uniform, and 2) Correspondent or Photographer arm bands (later patches).
an iconic image of female War Correspondents in London--notice the "C" armbands on their uniforms, and the differences in skirts and shoes
a second, less famous image of the photo above being taken--notice the photographer is wearing a "P" armband. This photo by correspondent David Scherman
Most importantly to me, uniforms provided a professional quality to female War Correspondents that they had been fighting for--and continued to fight for. Uniforms announce "I am a part of this war effort." They make it more difficult (but certainly not impossible) to dismiss the woman wearing it. They are a tangible representation of the important work being done, and I can only imagine how monumental that was.
War Correspondents also had a few differences in their uniforms: sometimes they wore a beret, although women's army uniforms did not include one; sometimes they wore the belt/buckle dropped from the women's army uniforms; they typically wore men's garrison caps instead of Hobby Hats (there was a female version of the garrison cap later, although it appears to have been less commonly acquired for WarCos). There appear to also be several variations of the insignia set, probably more variation than with women's actual army uniforms. Several kinds of WarCo patches, occasional shoulder loops, metal pins instead of patches altogether. There's a range, which is both frustrating (it's hard to decide what to wear to look "right") and flexible.
Correspondent Helen Kirkpatrick in an army beret with WarCo patch
My War Correspondent uniform comes from several different sources. I'm still working on it--the more you learn--but at the moment I have a base to support excursions in winter and summer, with some layers to change around and keep things interesting. My base outfit is an older (WAAC)-style uniform with jacket and belt, because I wanted to go towards the first uniforms a WarCo would have been able to get. When I first wore it, the pockets and buttons were wrong because there wasn't enough time to fix them before the event. Since then, I've re-done the pockets and switched out the plain gold buttons for original bakelite Army ones (which were later replaced with the more common gold ones). I opted for a matching set of OD (olive drab) skirt and jacket, because that way it's very little effort to switch to WAC if I decide I want to, but I could have opted for the officer "pinks" option (and it seems that many correspondents did wear that version).
My first event as a WarCo, wearing my uniform (and carrying my camera)
A quick cell phone snap of the re-done uniform jacket with new buttons/pockets, because of COURSE there isn't a single picture of me wearing it at the event in January :)
It's worth noting that I prefer the beret to the garrison cap, although I do have one as well because options are great! (and you can do more fun hair with the garrison cap...) It's also worth noting that my current beret is black, but I've recently learned that it should actually be khaki--the more you know--so I'll be fixing that before my next event. It's a process! In addition to some form of hat with WarCo patch, I also wear a patch on my jacket (you can see it in the photo above) and a "C" armband (which I don't have a picture of, because I'm the one behind the camera). Although as a photographer I could (and probably will at some point) wear a "P" instead, early on the only armbands were the "C" for "correspondent" and that's generally what I'm aiming for.
My shoes are also close but not perfectly army-issue. In the picture above from this summer I'm wearing modern gray Aerosole heels, which are pretty similar to original 40s shoes I've seen. Actually, I ran into a girl at the
WWII weekend in June
who was amused we had the same original 1940s shoes--except hers were originals, and mine were the modern Aerosoles! Since then, I've gotten a pair that are better with a uniform, since they more closely resemble the brown WAC oxfords. You can see that second pair in the pictures below: black oxfords with a low heel, from Payless's "comfort plus" (aka faux Aerosole) line. They're perfect, because they look close enough (which is what a WarCo would have aimed for) and they're super comfy. They're also pretty waterproof, which came in handy in the snow!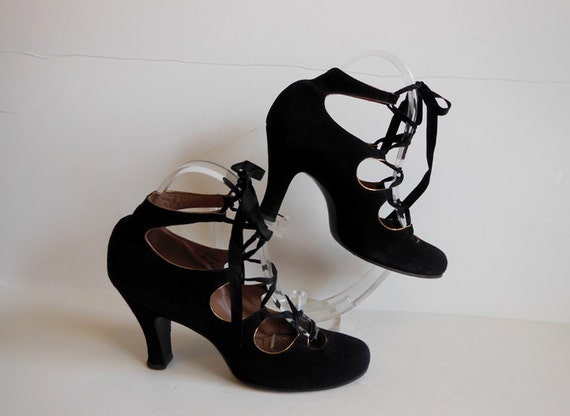 my gray shoes are a little like these originals, currently for sale on etsy
For the
Fort Indiantown Gap event
I attended in January, I also needed some warm layers. It was super cold, and I was so glad I had them! To add to my jacket/skirt base, I decided a second layering option would come in handy. That ended up being an OD shawl-collar sweater, which is a reproduction of a men's army piece. It wasn't uncommon for women to have to make do with leftovers from men's uniforms at the beginning, and being warm would be more important than having a great fit, so I decided it was reasonable to imagine a female WarCo in a men's army-issue sweater. Plus, it was 100% wool and
so warm
.
original photo of WACs off duty--you can see the different layers and sweaters here
hanging out with friends in my sweater
On top of my uniform, I also needed a coat. I've been keeping an eye on ebay for a WAC overcoat, but they're kind of hard to find and usually pretty expensive. In the meantime, I've done what an actual WarCo would have: acquired a men's army overcoat instead. I wore mine with the "C" armband, since I didn't have a correspondent patch for it. It was long and not very flattering, but totally worth it. Frostbite is no fun! Of course, I've managed to not get a picture of that either. I need to do better next time with this!
While at the event, I also picked up a WAC parka. These seem to be particularly rare, and are OD with brown "fur" of some kind (alpaca fleece, if my research is correct) lining it and forming the collar. It isn't in the best shape, but was amazingly warm and I'm going to try to preserve it. I've actually had a really hard time tracking down information about this particular item, but did find it mentioned in World War II Allied Nursing Services, which includes the following passage labeled 1943:
"One example of this [ANC/WAC uniform] co-ordination was the cold weather parka; the issued item was identical for both services...The parka had a warm alpaca fleece lining with a windproof cotton shell, a detachable hood and waistbelt. Under field conditions complaints were received about the fastening--a five-button front with a storm flap secured by three press studs" (p.1955).
in my parka in the bitter cold in January--this is missing the belt, but does have belt loops, so I stole the belt from my uniform jacket eventually



All in all, I've got a lot of options to mix and match while still in uniform, and that's pretty awesome. Even better, when I'm in uniform at an event trying to take pictures, people just assume I'm official, so I get to take pictures from areas the attending public isn't allowed to go near. It's not nearly the same as the struggle correspondents faced to get the best shot of the action, but it's about as close as I can get to understanding the triumph that goes along with that perfect capture.




Smith, Jill Halcomb (2004). Dressed for Duty (vol 2). R. James Bender Publishing: San Jose, CA.

Sorel, Nancy Caldwell (1999). Women Who Wrote the War. Harper Collins: New York, NY.